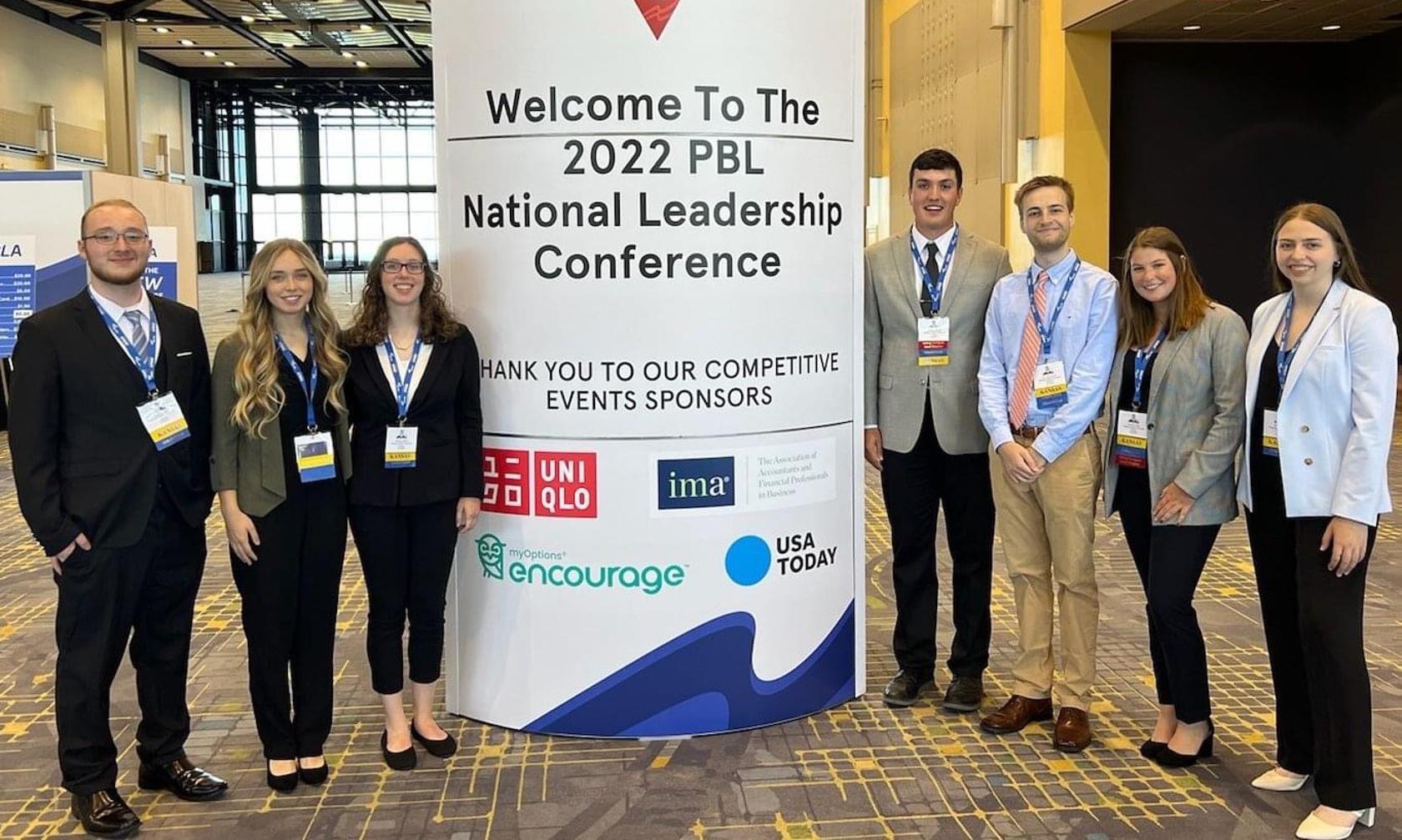 UPS students win national competition
With what they learned in the classroom and the support and encouragement of their professors, students at Pittsburg State University won national victories this summer in a competition organized by Phi Beta Lambda, the largest commercial and technical organization in the world.
PSU is home to an active chapter of PBL (the collegiate version of Future Business Leaders of America) that regularly competes and attends conferences.
Two students – Sarah Clausen, a specialist in marketing and management, from Cherokee, Kansas, and Matthew Schmidt, a specialist in finance and business economics, from Easton, Kansas – won first place in a competition that attracted 900 university students from all over the United States.
Schmidt was in sports management and marketing, while Clausen's win was in entrepreneurship concepts.
Clausen also won fourth place in social media marketing and sixth place in web design, both with classmate Wynter Jacobs, a marketing and management specialist from Pittsburgh. Their projects: a campaign on social networks for a beauty salon and a website for a thrift store.
"It's really special to end my very last national leadership conference with this victory," said Clausen, who is working on his MBA at Kelce College of Business.
She said PSU prepared her for the competition not only from an academic standpoint, but also with staff and faculty "who are extremely supportive of student organizations."
"When we qualified for the Nationals, everyone was very helpful in our fundraising efforts," she said. "Our advisor was particularly helpful in ensuring we would be financially able to go, helping to plan the trip and making sure we were ready for our competitions."
It will also look great on her resume, she added, when she begins her job search soon.
In addition to his first place finish, Schmidt also earned third place in Financial Services and seventh place in Financial Concepts.
"The opportunity I was given to travel to Chicago via PSU PBL was transformational," he said. "I participated in several professional events, I discovered new cultures and met new people at an international level."
In total, PSU students participated in 15 events and won 14 trophies. The competitors were:
Amanda Becker, accounting major from Weir, Kansas
6e in accounting for professionals
Hannah Evans, accounting major from Shawnee, Kansas
Participation in accounting for professionals, accounting principles and macroeconomics
Spencer Grillot, accounting major from Oswego, Kansas
2n/a in cost accounting
Samuel Holman, computer information systems and economics specialist from Cassville, Missouri
5e in Microeconomics
5e in Macroeconomics
5e in programming concepts
Wyntr Jacobs, Marketing and Management Major from Pittsburgh
4e in business communication
4e in social media marketing
6e in web design
Learn more about Kelce College of Business.