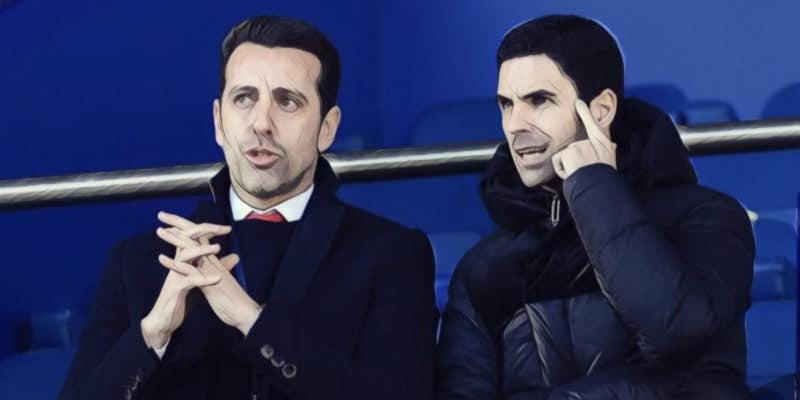 Technical Directors of Football – What exactly are they doing, does anyone really know?
There are currently five Premier League clubs employing 'football technical directors', which shows that the use of the title is on the rise. Although its genesis and original attributions remain a mystery, a privileged few have managed to interpret its meaning.
Although existing for more than thirty years, the role of the technical director has not yet received a concise and agreed definition. The title is often used interchangeably with director of football, director of football operations and athletic director, although neither of these designations gives insight into the role.
There is a common misconception, reinforced by the recent media spotlight on Arsenal's Edu, that the technical director's sole responsibility is recruiting players. In reality, each president and / or CEO interprets the role differently, adapting it to the structure, size and needs of their organization.
The modern technical director may be responsible for a number of ancillary duties, including responsibility and oversight of the playing philosophy of the club, academy, training ground, player contracts and recruiting of players. players and coaching staff.
Unsurprisingly, the role has become the source of much debate among fans, with concerns and skepticism often centered on its sheer intangibility. In March, when Manchester United announced the appointment of Darren Fletcher as the club's first technical director, Red Devils fans responded with an understandable mix of bewilderment, cynicism and optimism.
We are pleased to announce the appointment of John Murtough as the club's new director of football and Darren Fletcher as technical director.#MUFC

– Manchester United (@ManUtd) March 10, 2021
So how do you define the job of the technical director, if at all?
To answer this question, it is necessary to look at who, rather than what, embodied the role.
A brief history of technical directors
Like the sporting director (or its variations), the role of technical director was engendered in continental Europe more than three decades ago. Not to be confused with Spanish technical director, which refers to a coach or manager, the pioneers of the role were typically involved in most of the moving parts within an organization.
The majority of the first successes achieved were attributed to those in positions at the international level, with the hiring of Hansruedi Hasler by the Swiss Football Association in 1995 among the most notable appointments.
Hasler effectively had carte blanche to develop a new footballing identity as he saw fit. When young Swiss players – including Haris Seferovic, Granit Xhaka and Ricardo Rodriguez – emerged victorious in the 2009 U-17 World Cup, their triumph was in large part attributable to Hasler's fundamental restructuring of football in the country.
Likewise, Belgian football owes a huge debt of gratitude to visionary and former technical director Michel Sablon.
Building on the successful 4-3-3 systems used by their Dutch neighbors, as well as clubs like Ajax and Barcelona, ​​the Sablon incorporated a philosophy that turned minnows into a powerhouse of European football. Its ten-year plan to revitalize the Belgian Royal Association of struggling football is the foundation on which Belgium's "golden generation" has been built.
With the legends Michel Sablon (Belgium) and Hansruedi Hasler (Switzerland) as well as the Estonian TD Janno Kivisild, lead a FIFA workshop for the TDs of 2 billion of the world population (China, Japan, Indonesia, Philippines, etc.). FIFA programs make a huge difference pic.twitter.com/wn1xYWzYgO

– Kelly Cross (@ guv61) July 27, 2018
A handful of British clubs have followed suit over the years, each setting their own vision for the role, each with varying degrees of success.
Perhaps the first and most forgettable technical director of the Premier League era was Israeli Avram Grant who, after being appointed to the post by Portsmouth president Milan Mandarić in 2006, left the ship. at the end of the season to become director of football for Chelsea.
Of all the technical directors who have followed one another since then, few, if any, have been entrusted with the responsibilities entrusted to Sablon or Hasler. Among the lucky few, one is currently plying his trade in the Premier League.
A technical director who defines the role
Just as Liverpool's Michael Edwards, Man City's Txiki Begiristain and Everton's Marcel Brands are hailed as some of football's best directors, Brighton's Dan Ashworth continues to define what it is to be a top technical director.
There's a real buzz on the Amex terraces these days, with the roller coaster playing some of the division's most engaging football. Having built a competitive squad, a beautiful stadium and an ultra impressive training facility – all on a modest budget – the Seagulls are, in many ways, a model for any up-and-coming English club.
Ashworth, who joined the club in 2018, has been key to Brighton's stabilization in the top flight.
His role is a complete 'real job as a technical director', with the former Norwich City defender taking an eye on the men's and women's top teams, player recruiting, the academy, medical and sports science departments and loans. of players. As Ashworth says, "I'm standing in the middle of a wheel and my job is to bring together seven departments, connecting these spokes."
During his tenure as UK FA Technical Director, where he made a revealing and lasting contribution, Ashworth wrote and taught a course on the Technical Director role. Last year, in an insightful interview, he described his current position on the post.
"The principle for a technical director, in my opinion, is to look after the medium and long term interests of the football club. It's not about "getting a result tomorrow" in the short term, it's about trying to get our club set up in such a way that other departments complement and help Hope [Powell] and Graham [Potter]. "
With the legends Michel Sablon (Belgium) and Hansruedi Hasler (Switzerland) as well as the Estonian TD Janno Kivisild, lead a FIFA workshop for the TDs of 2 billion of the world population (China, Japan, Indonesia, Philippines, etc.). FIFA programs make a huge difference pic.twitter.com/wn1xYWzYgO

– Kelly Cross (@ guv61) July 27, 2018
Central to Ashworth's teachings is the importance of cultivating and maintaining a strong philosophy and culture within the club. He explains that the vision has to come from the top down and that continuity gives people the confidence to express themselves and thrive.
"If you change your head coach every fourteen months or so – which is about the average lifespan of a manager unfortunately – by moving from one philosophy to another, you have no chance of join your loans, your academy and your recruitment. . You end up having to change 16 or 17 players to change your principals. Ashworth said.
Unfortunately, the majority of those in key positions are not as direct or available as Ashworth.
Do the titles make no sense?
The exact responsibilities of the technical director, like the sporting director, will undoubtedly remain a mystery to those outside the intimate circles of elite football. As if by design, the obscurity of senior management jobs hinders the evaluation of their club's fans, denying them a measure against which they can measure an individual's performance.
However, just as Dan Ashworth and his predecessors proved, words don't make sense. Brighton's technical director could adopt any number of labels, but if his remit remained unchanged he would be just as successful.
Rather than dwell on definitions or succinct job descriptions, the role played by Edu and Richard Garlick, or the duties of Darren Fletcher and John Murtough, perhaps we should focus on the stellar work done by Ashworth and his ilk.
His exceptional impact in Brighton underlines the value of an intermediary, of a competent person who acts as the link between the manager and his board of directors. More importantly, The Future Prosperous Seagulls underscores the galvanizing effect of an unambiguous and well-implemented philosophy.
To read – Midfielder Magicians: Xabi Alonso, the great master of 4D chess
Read also – Zidane, Ronaldinho, Juninho – Five emblematic footballers and their emblematic gestures
Subscribe to our social networks:
Facebook | Instagram | Twitter | Youtube