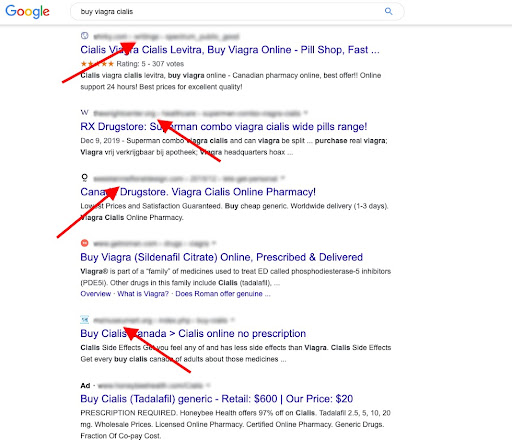 How to Get Rid of the Most Common Types of SEO Spam
What is SEO spam?
SEO spam is what attackers will inject into a website in an attempt to use your SEO ranking for something else that isn't otherwise ranked and will further the attackers' goal. They spam and destroy the website while trying to generate revenue or achieve some other goal.
Because of this, the website owner is usually unaware of what is going on unless they receive warnings or are added to blocklists.
Usually a hacker will try to avoid detection by rearranging links that are not visible to the average site visitor and only crawlers/index engines can see it.
How to Identify and Remove SEO Spam
SEO spam can be found on a site in multiple ways, depending on how the site is constructed. Most of the time, site owners don't know they've received SEO spam unless they've actively checked their site through search engine tools and scanners or received an alert. or a report from one of their visitors.
A site owner may find hundreds or even thousands of spammy blog posts inserted into their blog, or their legitimate blog posts injected with SEO spam.
Most of the time, you can also catch SEO spam in modified theme files (header.php, footer.php, index.php, functions.php). Shady plugins can also be the culprit in some cases, or entire directories placed in the file structure with thousands of spam files.
Here is an example of what SEO spam can look like:
Got the best cbd oil for pain and info about cbd oil.
The best way to find SEO spam is to use tools like Google Search Console, Transparency Report, or just googling the site yourself. Website scanners and security plugins are also handy in this case as well.
Sometimes a spam infection doesn't even try to hide itself and redirects all website traffic to fake websites:
However, deleting SEO spam can be a more exhausting process. Since SEO spam can show up in places you wouldn't really expect, it can be hard to find. If you are not so knowledgeable about manual infection removal, the best option is to find a malware removal service do it for you. Sucuri offers 24/7 coverage for cleanings, as well as unlimited coverage in the event of re-infection.
SEO spam damage is quite dangerous for your website and its reputation as its effects can be seen and felt for months even after the infection is completely removed as you will have to wait for crawlers like Google to re-index your website completely and clear their caches. .
And until this process is complete, you will experience a sharp drop in your SERP (search engine results page) positioning and therefore the amount of traffic you receive. Your website may also end up with a blocklist, which only exacerbates the problem further.
How to Prevent SEO Spam
Preventing SEO spam is important if you want to avoid any issues with site traffic drops, blocklists, and maintaining an online presence. However, the best method to mitigate these risks is to ensure that the CMS versions, plugins and themes are always up to date. Having all the login sections, accounts and adding 2FA are also important.
Also make sure all plugins and user privileges are kept to a minimum. Keeping regularly stored backups can also be useful in case you need to roll back, but having some sort of barrier between the visitor and the origin server will ensure that no malicious requests get through. Using a Web Application Firewall (WAF) will be most effective in this case.
In conclusion
Having an infected site can be an incredible nuisance. When you don't even notice you've been infected, or how long it's been around, it can be quite frustrating to find out it's the culprit of a broken SEO. However, knowing if you are infected with SEO spam is crucial. Feel free to use our free SiteCheck Tool to search for anything, or use our free WordPress plugin to regularly scan the site for malware.