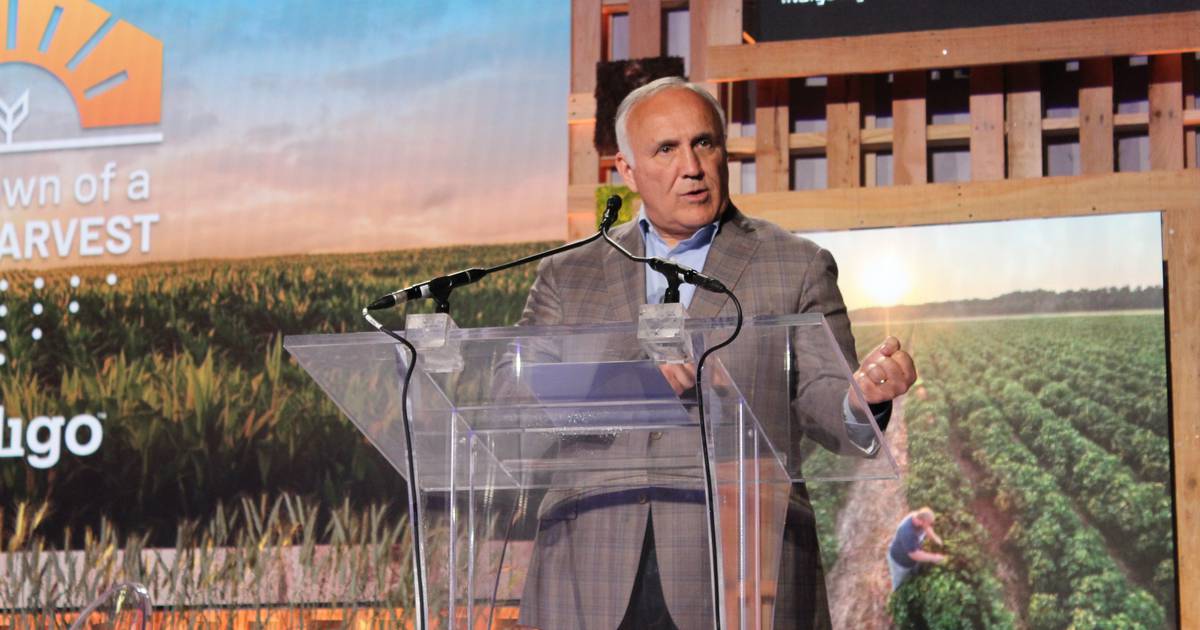 Farming practices generate income through carbon credit scheme – AgriNews
CHICAGO — Farmers receive payments for the work they do on their farms to sequester carbon through the Indigo Ag program.
"We have completed production of nearly 19,000 agricultural carbon credits to be issued by Climate Action Reserve," said Ron Hovsepian, CEO of Indigo Ag. "We are able to use science and technology to measure and verify the removal of carbon from the atmosphere from 175 farmers."
This first harvest, Hovsepian said, is just the beginning.
"We can provide an immediate, scalable and affordable solution to address climate change and have an impact," Hovsepian said.
"We plan to unlock a repeatable process that creates a new revenue stream for farmers to enable the sustainability of farmers' journeys to regenerative agriculture and sustainable practices, not just in the United States, but around the world" , did he declare.
Most farmers want to be part of efforts to reduce the amount of carbon emitted from conventional farming practices, said Dan Glickman, former agriculture secretary. "The trick is how to incentivize farmers to participate and how to compensate them properly for it," Glickman said.
Agriculture is not the only industry involved in carbon sequestration.
"But it's a major player because 70% of the land in our country is owned by private landowners, so the opportunity to make an impact is great," Glickman said. "Farmers will not only benefit from the sale of traditional products, but also from carbon credits which will provide an additional source of income."
Indiana farmer Chris Lehe received his first carbon credit payment under the Carbon by Indigo program.
"My cousin and I got involved because we had a landowner who wanted to convert his farm to no-till for conservation purposes," Lehe said. "We were at a winter marketing meeting where an Indigo rep spoke and we signed up because we thought it was a no-brainer."
Lehe started working with Indigo Ag in 2018.
"Indigo made many changes and every change seemed to benefit the farmer," he said. "No-till is not without its challenges, but since we don't till some acres, if we continue to see the soil improvements, we will consider expanding them."
All of Lehe's acres are enrolled in the Indigo Ag carbon farming program.
"The 860-acre farm we converted to no-till isn't quite 20% of our acres," he said. "We grow corn and soybeans and most of our corn is popcorn."
Since agriculture's volatility is extreme, Lehe said, adding carbon credit revenue is a great way to stabilize some of that volatility.
"For our first harvest of carbon credits, we earned nearly $25,000 for a few hours of data entry," he said.
Data entry is quite simple with the technology that Lehe has on his equipment.
"I use MyJohnDeere to upload my farm information to Indigo's data center," he said. "I can do whatever I want on my agricultural land as long as I keep the data entered, the land is still registered."
No-till is the main practice that Lehe currently practices for carbon sequestration.
"Not all of our bean acres are plowed," he said. "We also did cover crops as part of a three-year NRCS program."
Ninety-five percent of the work in carbon farming is the farmer who makes the decision to make a change and then implement the practice such as no-till or planting a crop hedging, said Chris Harbourt, chief strategy officer at Indigo Ag.
"Five percent are working with Indigo Ag to turn this into a revenue stream," said Harbourt.
For example, a farmer can choose to plant a cover crop, and once the primary crop is harvested, the farm's data is entered into the Indigo Ag website.
"We also need data on two crop rotations prior to the year the new practice started," Harbourt said. "We take soil samples from the fields and it costs the farmers nothing because they are taking enough risk to make the change."
Indigo Ag compiles a report that includes each farmer in its program and is submitted to a third party for verification.
"It's reviewed, verified, and submitted to the registry that issues credits," Harbourt said.
Indigo Ag currently has 17 carbon credit buyers, including companies such as JP-Morgan Chase, Blue Bottle Coffee and New Belgium Brewing.
"They're paying $40 per tonne per year of carbon removed, which is determined by a combination of soil sampling and practice change-based modeling," Harbourt said. "Seventy-five percent of that goes to farmers and 25% to Indigo."
The Indigo Carbon Farming Program is currently available in 30 states.
"Eligible crops are corn, beans, wheat and cotton in states primarily east of the Rockies," Harbourt said.
The entire Indigo Ag modeling process is open to the scientific community.
"Submission to Climate Action Reserve is fully open and transparent," said Harbourt. "It must be because when you assure a producer and a buyer that an invisible gas is sequestered in the ground, it must be opened or no one will believe you."
It can be part of that future that includes better soils and better climate resilience, said Colorado State University professor Keith Paustian.
"I hope this is part of a new green revolution and a shift in our agricultural paradigm," Paustian said.